What is Pet Limousine About?
---
Dear Pet Limousine Customers,
It is my privilege to provide a convenience for you and loving care for your four legged family members. It has been a pleasure to get to know you and your pets since acquiring the business in August of 2000. It has been one of my goals to serve you in the same manner as the previous owner who was much loved for 15 years.
The Pet Limousine has transported many passengers including a large snapping turtle named Miracle, a monkey that was spared from a laboratory and sent to a local sanctuary, a pot bellied pig that had been incarcerated at the animal shelter and lots of pets being shipped to other parts of the world to join their families. It has been very interesting and fulfilling to assist people with their different needs.
My favorite thing is getting to know people and their pets and being allowed to be a part of their everyday lives.
Cheryl Steckler
---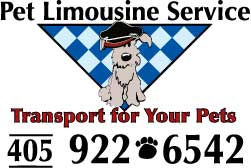 Our Mission
We will continue the love and care of your family pets as we provide responsible transportation.